Stay with us and explore our hidden welsh valley
Allt y bela B&B, Usk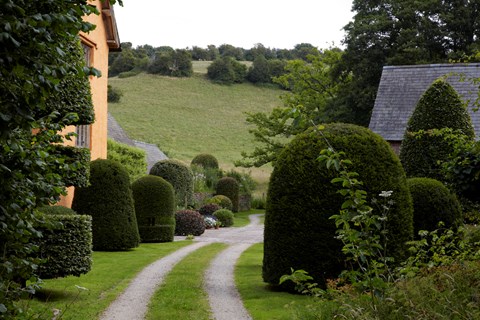 The Farmhouse
Allt-y-bela is a romantic medieval cruck-framed farmhouse built between 1420 and 1599, with the addition of a Renaissance tower created in the seventeenth century.
Nestled amongst the rolling hills of the Welsh countryside, this terracotta coloured farmhouse sits majestically against a stunning backdrop of green. It was lovingly restored by the Spitalfields Trust and has subsequently won several conservation awards. Here you'll find peace and quiet surrounded by wonderful unspoiled countryside that's been recently designated SSSI.

Since moving here in 2007, Arne Maynard and William Collinson have been creating a new garden, introducing some of Arne's signature garden design elements and achieving a garden that has a true sense of place. From formal clipped topiary to native meadow planting, blurring the lines between the garden and its surrounding landscape, Arne's design principles are nowhere better illustrated than here.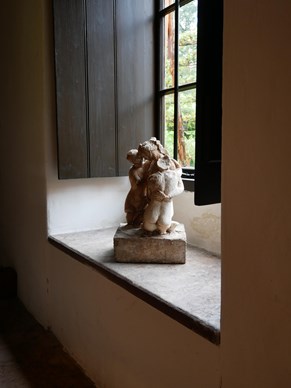 Bed and Breakfast
Allt y bela is a private home as well as an exceptional place to stay that it's owners love to share.


At the heart of the house is the farmhouse kitchen, often filled with the warm and alluring smell of freshly baked bread or home made jam. Guests can enjoy a home cooked breakfast and are welcome to choose from a range of locally produced, and as far as possible, organic or home grown ingredients. Evening meals are sometimes available with enough notice.

Pets are very welcome; Arne and William have two dogs, a cat and a flock of free roaming chickens. While guests can enjoy waking up to the sound of bird song or livestock in the fields around the house, they will also be sure to find an abundance of wildlife in every direction within metres from the front door.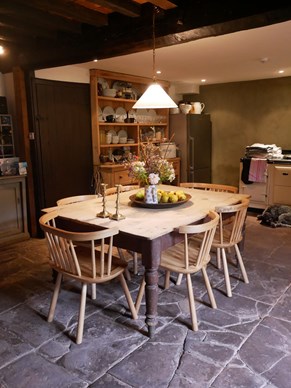 Rooms
Allt y bela offers two large double bedrooms for guests, each with their own private bathroom en-suite. The East room and the West room sit at either end of the house, with a stylish and eclectic interior, complete with exquisite period pieces, paintings and objects, many originating from the arts and crafts era.
Here you will find winding staircases, ancient beams and not a straight line in sight. Arne and William's love for interiors is visible throughout the house, perfectly complementing the unique and wonderful character of this beautiful medieval home.

Rooms start at £200 (including breakfast) for the first night and are charged at £150 per night thereafter.
Rooms benefit from free wifi and do not include a TV. 
If you would like to know more about booking a stay please enquire via the link below, including your preferred dates and any other relevant information.
EXPLORE THE SURROUNDING AREA

Monmouthshire is renowned for being one of the UK's most beautiful areas to visit, with it's fantastic scenery, perfect for long walks and cycle rides, riding, gliding and grass skiing, along with all the usual facilities very close at hand. Based on the outskirts of the small historic town of Usk, there are numerous pubs and restaurants only a short drive away from Allt y bela. Listed below are some of Arne and William's favourite things to do and places to go...
Wonderful walking from the front door in completely unspoiled countryside with year round wildlife interest and amazing wild flowers in season, especially the orchids in May and June.

Pubs with great food and within 10 minutes drive include the Greyhound, the Nags Head, the Black Bear and the White Hart.

Superb restaurants nearby, especially The Walnut Tree Inn.

Fantastic fishing nearby on the river Usk.

Usk Farmers Market every second Saturday - one of the best in Wales - Monmouth on the other Saturdays.

However you decide to spend your stay, at Allt y bela you can enjoy total privacy in an almost secret valley, invisible to the outside world and completely sheltered, where only the sounds of running water, birdsong and the breeze high up in the trees can be heard.
Allt y bela is situated near Usk, Wales, and is easily accessed by road via the M4, M5 and M50 and by train and taxi. Detailed directions will be given with booking confirmation.