EVENTS AT ALLT Y BELA
Seasonal courses, TALKS AND Garden tours
As we manage busy lives, we often miss nature's wonderful ebb and flow, which naturally accompanies each passing season in the garden. Each season promises fresh beginnings, inspiration, magic and gardening wonder. Through our various courses, educational talks and workshops we offer you a chance to pause, take stock and immerse yourself in the beauty of the natural world.
As we navigate our own path out of the Covid-19 pandemic and finish the development of our new studio building in Bath, we hope to resume our courses, talks and garden tours as soon as we can. All events at Allt y bela must be booked in advance. If you would like to stay up to date with information and dates as and when they become available, please sign up to our e-newsletter via the link below.
Sign up to our newsletter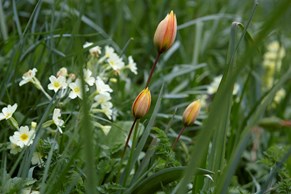 PLAYS
GARDEN Theatre Allt Y Bela
We have a long history of hosting intimate performances in our garden theatre at Allt y bela. The popular summer events, which in recent years have been staged by travelling theatre company The Handlebards, are enjoyed by guests of all ages. Shakespeare favourites are regularly offered and in 2021 we hosted our first performance of Oscar Wilde's The Importance of Being Earnest. 
Stay in touch with our events calendar and be one of the first to know about tickets, by signing up to our occasional e-newsletter via the link at the bottom of the page below.
"The Handlebards manage to make light of even the darkest of Shakespeare's tragedies - The whole family loved it. The setting sun behind the house was the perfect end to the evening."